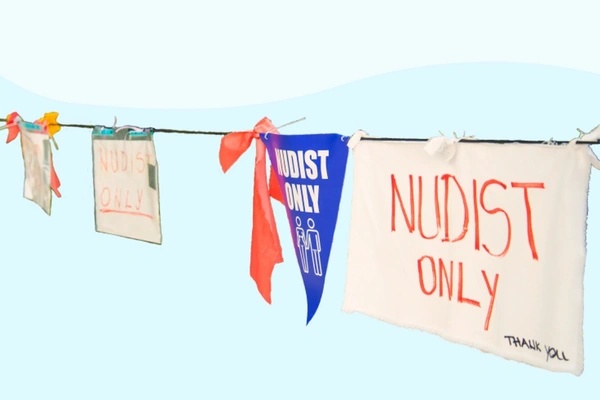 Here at Pickleheads, we regularly joke that pickleball is "about as much fun as you can have with your clothes on". Turns out, however, that clothing is optional.
As pickleball continues its rise to the mainstream, some alternative ways to enjoy our sport have started to take off. From Savannah to San Diego, free-spirited pickleheads are rejecting convention and playing pickleball just as nature intended—fully nude.
That's right folks, nude pickleball is a thing, and it's more popular than you might think.
In recent months we've put together all sorts of guides on how to dress on the pickleball court. We covered everything from pickleball hats to pickleball shirts, but for some plucky pickleheads, all our hard work was for nothing!
Naturist resorts traditionally offer all sorts of sporting amenities, from beach volleyball to tennis courts and even golf courses.
But now, all across the country naturist havens have embraced the newest trend and are offering visitors the pleasure of a session on the pickleball courts without the need for pesky pants.
So, let's answer some questions, as we're sure you have tons. Where can we find a game of nude pickleball? What is naturism and what makes it so appealing? And what are the benefits of playing the game of pickleball in the nude? Read on to reveal all!
Where Are People Playing Pickleball Nude?
Naturism has been a feature of US culture since the 1930s. The pursuit is defined as 'non-sexual social nudity'. So, running around your house in the nip doesn't qualify you as a naturist.
As you can imagine, public nudity tends to be socially awkward, not to mention illegal. Naturist resorts solve this problem.
Across the USA, nude recreationists gather at naturist resorts, RV parks, and nude beaches to enjoy their freedom from clothes with like-minded peers. And while there, they like to practice their favorite pastimes, be that happy-hour shuffleboard, playing ping pong, or holding tournaments in pickleball.
Places Where You Can Play Pickleball Nude
Here's a list of places where you can give nude pickleball a go. Perhaps the most famous among these is the Cypress Cove Nudist Resort in Kissimmee, Florida.
According to Mike Sullivan, a USA Pickleball ambassador, who lives there, pickleball is the biggest sport.
These sites offer many other activities too, like nude cornhole.
Now you have to promise us you'll wear plenty of sunscreen though and don't get too cocky on the courts!
Arizona
California
Connecticut
Florida
Indiana
Kansas
Maryland
Massachusetts
Michigan
Minnesota
Missouri
New Jersey
New York
Ohio
Oklahoma
Oregon
Pennsylvania
South Carolina
Tennessee
Texas
Virginia
Washington
West Virginia
British Columbia
We've also added one clothing-optional resort over the border in beautiful BC, as we're sure some of the 35,000 Canadian naturists like to dip into pickleball, despite icy conditions (and stiff competition).
Want to learn more about the nude pickleball trend? Check out Dave & Chuck the Freak discuss it on their YouTube channel:
And if you still want more, check out this podcast episode.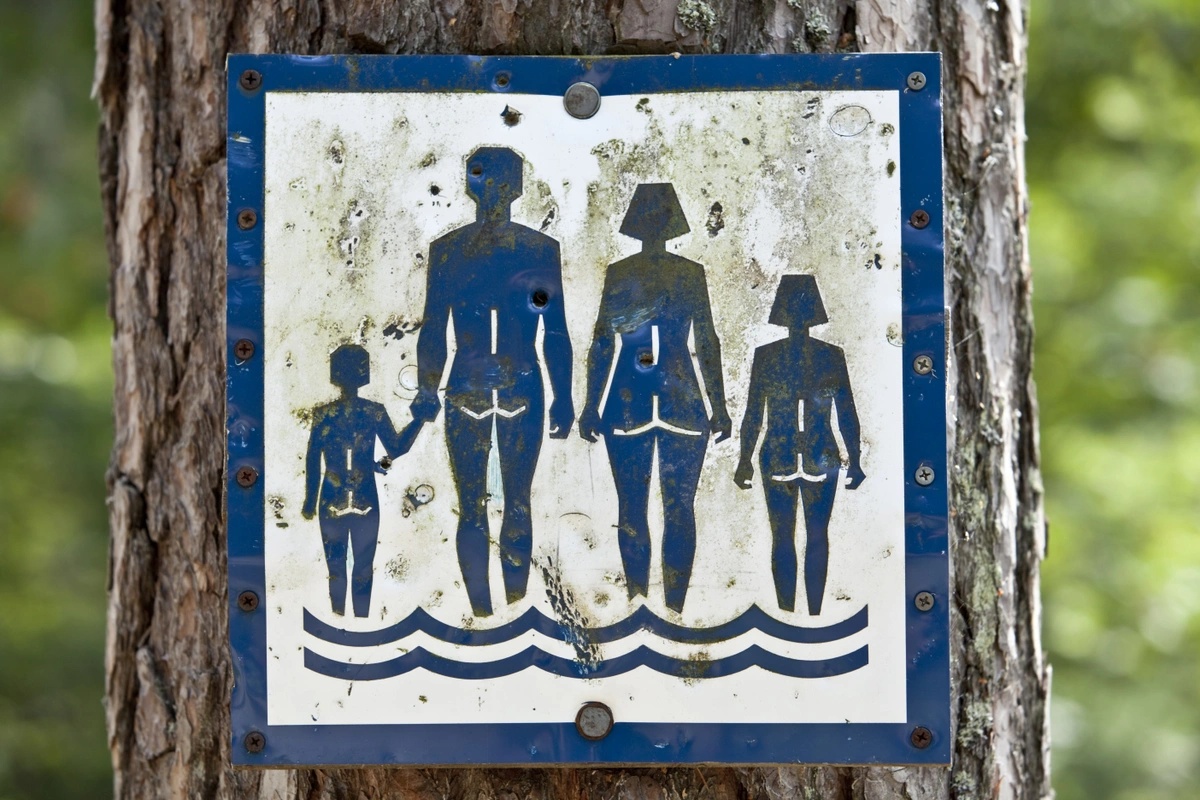 How Naturism Works
Naturism as a concept was first conceived by a small group of men in British India in the final years of the 20th century. It didn't catch on immediately, but a few years later a German doctor began to promote it in earnest and the idea gained traction.
By the 1920s, the naturism movement had become more widespread in Europe. And its philosophies soon crossed the Atlantic to the United States.
Naturist's ideals are simple and positive. They believe that spending time naked allows us to free ourselves from materialistic hang-ups and live a freer life in harmony with nature and the environment.
Naturism promotes a spontaneous approach to life as well as acceptance of everyone, no matter their age, race, gender, or body shape. We can't argue with that!
The term 'nudist' is often used interchangeably with the term 'naturist'. However, proponents of true naturism would say that their lifestyle choice involves more than just being naked.
Naturists tend to subscribe to other ideals like living an environmentally-friendly life, vegetarianism, and embracing social equality. Naturism is a whole-life philosophy, rather than just the enjoyment of sunbathing naked.
How to Enjoy Pickleball Naked
Can you really play pickleball in just your shoes? If you're used to public nudity, it's not such a challenge. But if it's your first time, there are some hurdles to overcome.
As with trying anything new, find the right community. Showing up to a summer evening's pickleball tournament in your local park with no clothes on might not go down so well. So use our list above to find the right space for your naked pickleball initiation.
And remember, wear sunblock! Some of those delicate parts of your body may not have seen the sunshine in a long time, if ever. Trust us, sunburn on your tender bits is not pleasant!
Do Shoes Matter in Nude Pickleball?
Clothing-optional pickleball sounds like a truly liberating experience. But, we have some practical questions. What do you wear on your feet, for example?
We're relieved to report that yes, nude pickleball players do still wear normal pickleball shoes.
Nude pickleball is certainly a liberating experience, and proponents swear by the exhilarating feeling of the air against your naked body as you run around the court.
Playing naked also means you avoid the issue of hot and sweaty clothing, and the chafing it can bring. It also saves a ton of laundry, and you won't have to worry about looking stylish on the courts. All you need is your tennis shoes and your pickleball paddle and you're set to go.
A disadvantage is that you'll need lots of sunblock. And if you do have a tumble you can end up with road rash in 'interesting' places.
Happy Pickling
We hope we've given you plenty of inspiration and handy locations to play pickleball in the nude.
Do you know of any great places to play naked pickleball in your local area that we've missed off our list? We'd love to hear from you, so reach out to us on our socials.
In the meantime, if you're interested in trying out this latest pickleball variation, don't be shy! Get out there and get involved. There's a first time for everything!
About the author
Brandon Mackie
Brandon is an avid writer and co-founder of Pickleheads™. Once a competitive tennis player, Brandon can now be found these days honing his dinks on pickleball courts near Phoenix, Arizona.