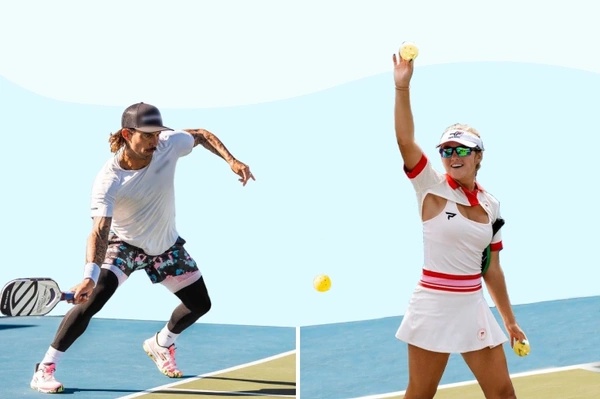 Until recently our beloved pickleball was a niche sport, confined to specialist community clubs, occasional parks, and a whole lot of retirement communities. Now, Major League Pickleball (the MLP) stands to increase that popularity, and launch the sport to unprecedented heights.
So, what is Major League Pickleball and what does the creation of this league mean for pickleheads like us? In this article, we explain all how Major league Pickleball came into existence, and how the 2023 MLP league is going to work. We also take a look at the tournament rules, the draft system, and pro pickleball player salaries.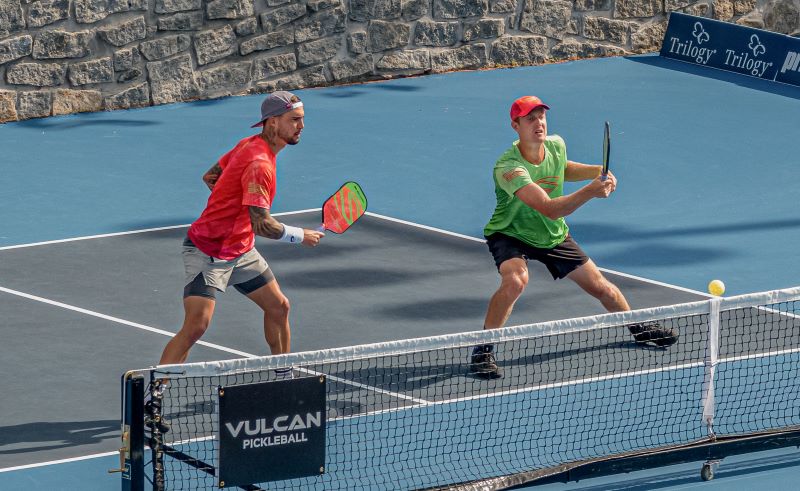 What is Major League Pickleball?
Major League Pickleball is the highest-tier competitive league in professional pickleball. Despite the slow growth in the early years of the sport, popularity in recent years has absolutely boomed. On top of that, a 'strategic merger' between the two biggest pickleball leagues, the Pickleball Pro Association (PPA) and the MLP, has created a unified and exceptionally well-funded pickleball league.
The first Major League Pickleball draft was held in Dripping Springs, Texas in 2021. It was the brainchild of Steve Kuhn, a businessman and bonafide picklehead who believes pickleball can make the world a better place. A total of 8 teams participated in the four-day pickleball festival at Kuhn's Dreamland resort.
The first Major League Pickleball tournament of 2022 was also played at Dreamland, with four new teams added to the program. Two further MLP tournaments were held in 2022, one in Newport Beach, CA, and the final one in Columbus, OH. Team BLQK won the $100,000 prize.
Rising Popularity in the MLP
Pickleball is now the fastest-growing sport in the country, with over 36.5 million Americans playing pickleball at least once in 2022. The demographic has totally opened up, with people of all ages now enjoying this addictively entertaining pastime.
Pickleball has also been embraced by a slew of celebrities including Leonardo DiCaprio, Steven Colbert, and the Kardashians. Everyone, from Hollywood A-listers to Bill Gates, is getting in on the action!
But it's not just competitive celebrities who are getting on board the pickleball trend. Major League Pickleball teams are currently being snapped up by heavyweight investors such as the NBA's LeBron James and Mark Cuban, signaling a long, bright future for the sport. MLP has also signed a lucrative sponsorship deal with lifestyle brand Margaritaville.
How Major League Pickleball Works
From the team drafts to the match formats, let's look at the ins and outs of Major League Pickleball:
The MLP Draft
First, there are the Major League Pickleball drafts. Each team consists of two men and two women, and team members are chosen via a dual snake draft, designed to make teams as competitive as possible.
For a clear rundown of how this snake draft system works, check out this video:
Major League Pickleball 2023 Rules
MLP rules follow the USA Pickleball Association rulebook. Each year, the USAPA rule committee spends months reviewing suggestions from the public. These suggestions are whittled down and each year there are dozens of changes to the rule book.
The full list of pickleball rule modifications can be read online, but one of the biggest changes introduced in 2023 was a complete ban on 'chainsaw' or spin serves.
Match Format
In Major League Pickleball tournaments, co-ed teams of four (two men and two women) compete against each other in matches that consist of four games:
Game 1: Women's Doubles
Game 2: Men's Doubles
Games 3 & 4: Mixed Doubles
Once a team wins three games the match ends and the winners go through to the next round.
The teams play against each other in a group round, and the top six teams then advance to the quarterfinal round.
In 2023, each match will consist of four Games to 21 (win by 2) with rally scoring. On top of this, if a team wins games 1 to 3, the match is over and the 4th round won't be played!
The DREAMBREAKER™ Round
If, after the four games have been played, the teams are tied at 2-2, the Dreambreaker™ round begins. This is a unique tiebreaker system that starts with one team selecting an order for their four players to play. Next, the opposing team chooses their rotation, after seeing the first team's order.
The players then battle it out in singles pickleball in the agreed order, playing four points before rotating and letting the next player take over.
Major League Pickleball Events in 2023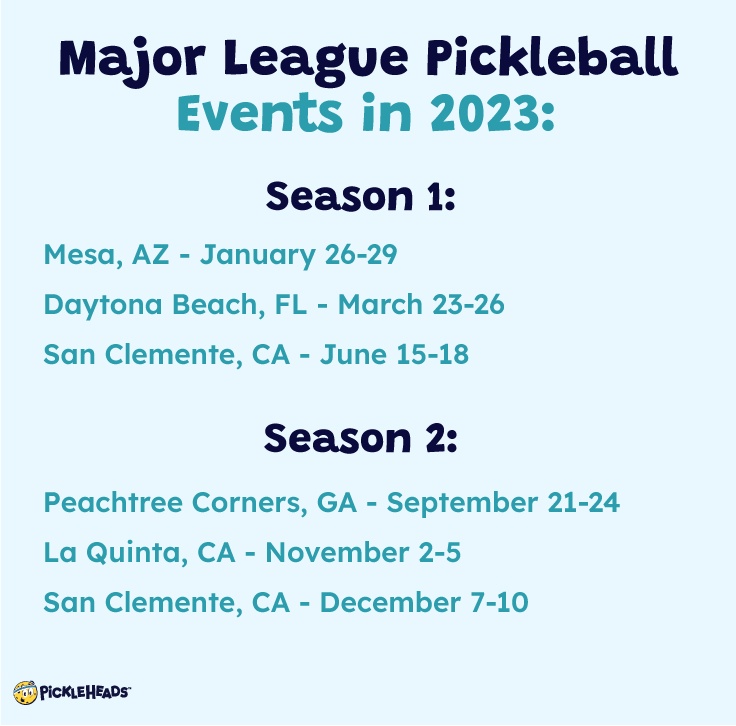 There are six Major League Pickleball events in 2023, divided into two seasons:
Season 1:
Mesa, Arizona - January 26th to 29th
Daytona Beach, Florida - March 23rd to 26th
San Clemente, California - June 15th to 18th
Season 2:
Peachtree Corners, Georgia - September 21st to 24th
La Quinta, California - November 2nd to 5th
San Clemente, California - December 7th to 10th
2023 Season 1 Major League Pickleball Teams
2023 is a foundational year in Major League Pickleball. The outcome of this year's league will shape the future of MLP.
The league has been expanded to 24 teams: 12 teams will compete in the MLP Premier Level, and 12 teams in the MLP Challenger Level.
In the first season, the first 48 players who are drafted will compete in Premier Level. The next 48 players will make up the 12 teams in the Challenger Level. The teams will then flip levels and re-draft players for new rosters in Season 2.
The draft happened in December 2022, and the following teams were announced for Major League Pickleball 2023.
Premier Level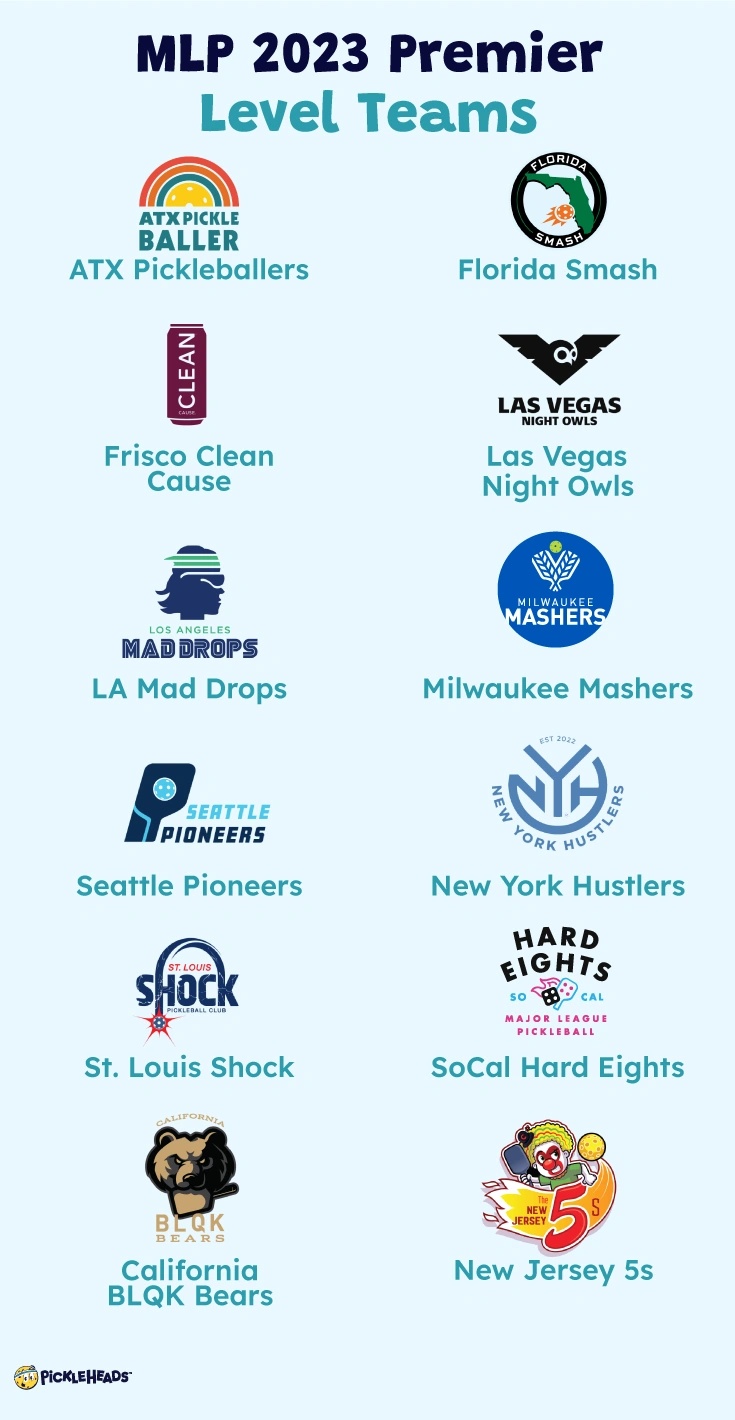 | | |
| --- | --- |
| Team name | Players |
| ATX Pickleballers | Jackie Kawamoto, Jade Kawamoto, JW Johnson, Gabriel Tardio |
| Florida Smash | Jessi Irvine, Jorja Johnson, Travis Rettenmaier, Collin Johns |
| Frisco Clean Cause | Yana Grechkina, Lina Padegimaite, Zane Navratil, Matt Wright |
| Las Vegas Night Owls | Vivienne David, Lauren Stratman, Dekel Bar, Kyle Yates |
| LA Mad Drops | Catherine Parenteau, Irina Tereschenko, Julian Arnold, Thomas Wilson |
| Milwaukee Mashers | Callie Jo Smith, Lucia Kovalova, Andrei Daescu, DJ Young |
| Seattle Pioneers | Etta Wright, Meghan Dizon, Ben Johns, Tyler Loong |
| New York Hustlers | Anna Bright, Lacy Schneemann, Tyson McGuffin, Rafa Hewett |
| St. Louis Shock | Simone Jardim, Allyce Jones, Jay Devilliers, Erik Bjorn Lange |
| SoCal Hard Eights | Mary Brascia, Lindsey Newman, Riley Newman, AJ Koller |
| California BLQK Bears | Andrea Koop, Maggie Brascia, Dylan Frazier, Federico Staksrud |
| New Jersey 5s | Anna Leigh Waters, Lea Jansen, James Ignatowich, Hayden Patriquin |
Challenger Level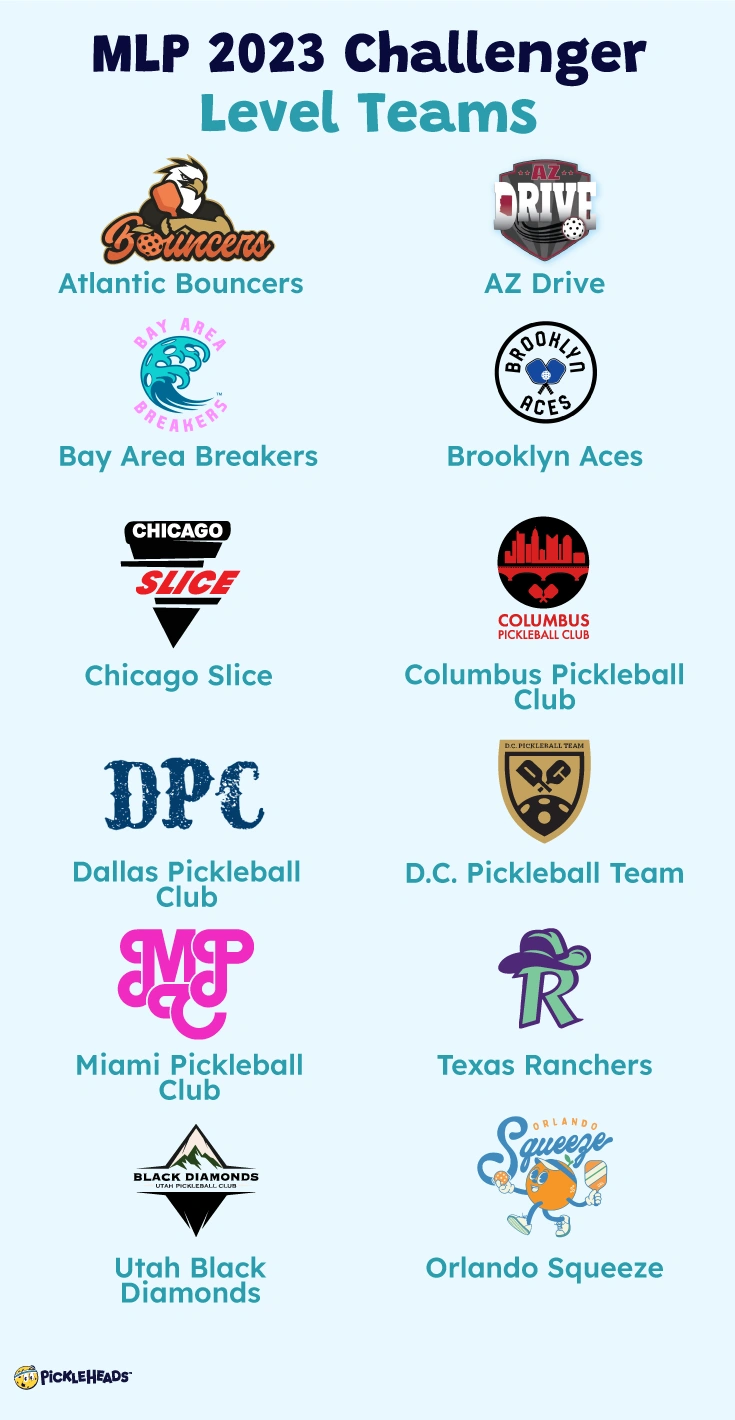 | | |
| --- | --- |
| Team name | Players |
| Atlantic Bouncers | Hunter Johnson, Brooke Buckner, Ben Newell, and Christine McGrath |
| AZ Drive | Wes Burrows, Sarah Ansboury, Andreas Siljestrom, and Sarah Burr |
| Bay Area Breakers | Pablo Tellez, Ewa Radzikowska, Christian Alshon, and Rachel Summers |
| Brooklyn Aces | Cierra Gaytan-Leach, Rob Nunnery, Corinne Carr, and Greg Dow |
| Chicago Slice | Susannah Barr, Emily Ackerman, Connor Garnett, Ryler DeHeart |
| Columbus Pickleball Club | Milan Rane, Becky Ryan, Yates Johnson, and CJ Klinger |
| Dallas Pickleball Club | Megan Fudge, Chuck Taylor, Brandon French, and Christa Gecheva |
| D.C. Pickleball Team | Sam Querrey, Stefan Auvergne, Shelby Bates, and Monica Paolicelli |
| Miami Pickleball Club | Alix Truong, Regina Franco, Jeff Warnick, and Matt Manasse |
| Texas Ranchers | Lee Whitwell, Pat Smith, Genie Erokhina, and Steve Deakin |
| Utah Black Diamonds | Michelle Esquivel, Spencer Smith, Olivia McMillan, and Rob Cassidy |
| Valhall Volleys | Bobbi Oshiro, Callan Dawson, Rachel Rettger, and Todd Fought |
Prize Pool
Thanks to the MLP-Vibe merger, the Major League Pickleball prize pool has increased dramatically in 2023 – with players able to earn as much as $10 million in prize money.
2023 Major League Pickleball Owners
As we mentioned above, since pickleball has hit the mainstream, all sorts of high-level investors have gotten interested. Some of the most notable Major League Pickleball team owners of the 2023 season are Anheuser-Busch (owners of Budweiser etc), Tom Brady, LeBron James, Kevin Durant, Heidi Klum, Drew Brees, and Mark Cuban, to name just a few.
Major League Pickleball vs Pickleball Pro Association (PPA) Tour
Up until November of 2022, Major League Pickleball and Tom Dundon's Professional Pickleball Association's VIBE pickleball league were competing organizations. Thankfully, they were able to put aside their differences and join forces. They announced a strategic merger to unify the sport and decided to operate together under the MLP brand name and format.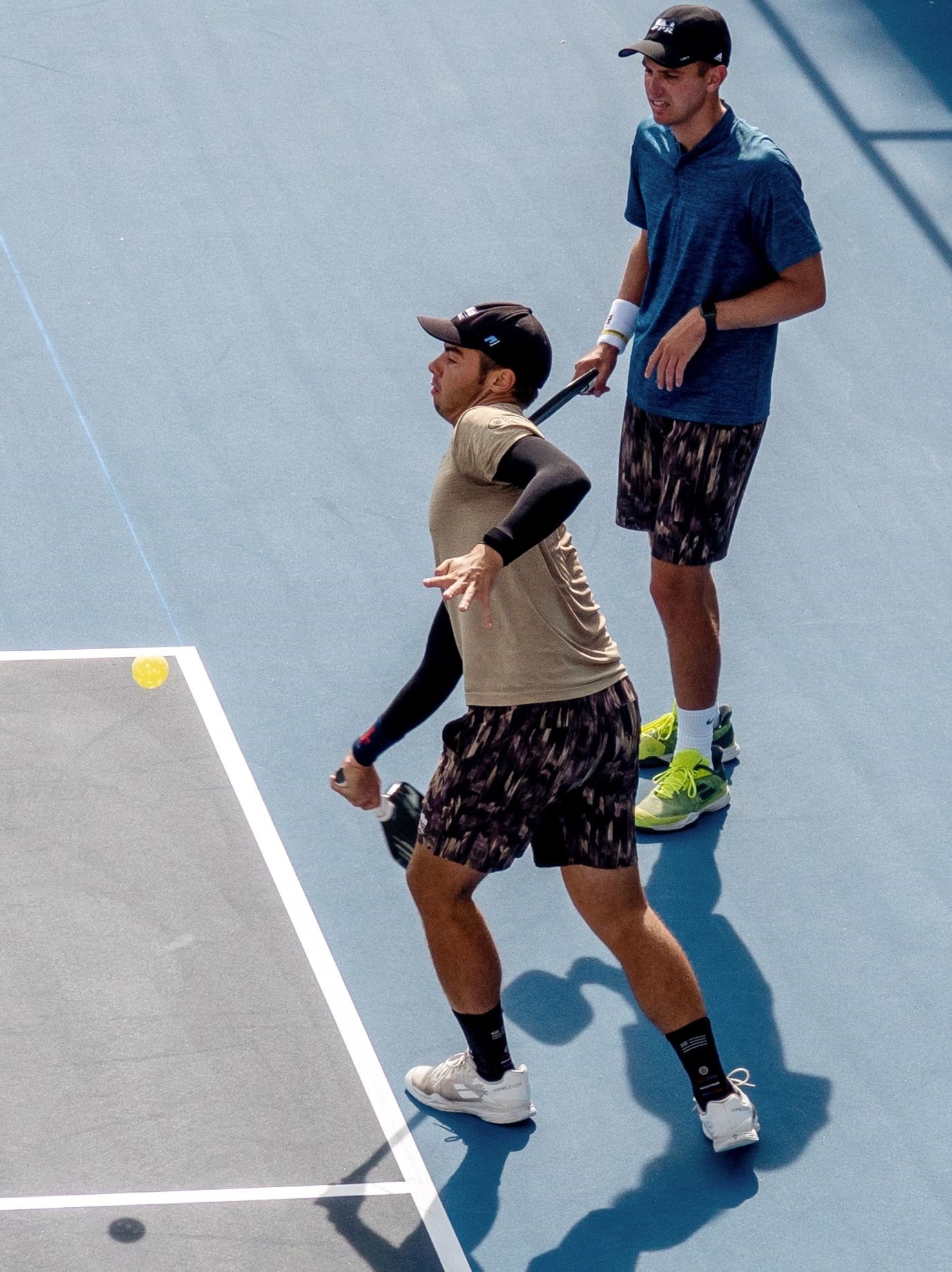 A League of Its Own
The advent of Major League Pickleball is the most exciting thing to happen to our sport ever, and we can't wait to watch it on TV (and hopefully attend a few games in person). The Tennis Channel will be showing the semi-finals and finals of the big tournaments, so don't forget to tune in there!
In the meantime, we hope we've given you all you need to know about the MLP and shared some of our excitement about pickleball reaching big heights!
So, who are your picks for the 2023 season? Let us know on our socials. We always love to hear from you!
About the author
Brandon Mackie
Brandon is an avid writer and co-founder of Pickleheads™. Once a competitive tennis player, Brandon can now be found these days honing his dinks on pickleball courts near Phoenix, Arizona.